telephone: 207.272.5734 | email:
nwinc@myfairpoint.net
Big Rocks
by
Andrew Wyeth
© 1974 by Andrew Wyeth
Watercolor on Paper
28.25 x 22.875 inches
Helga walking in her cape coat in the woods behind the N.C. Wyeth house, Chadds Ford Pennsylvania.
---
"They fought with him on foot more than three hours, both before him and behind him"
by N.C. Wyeth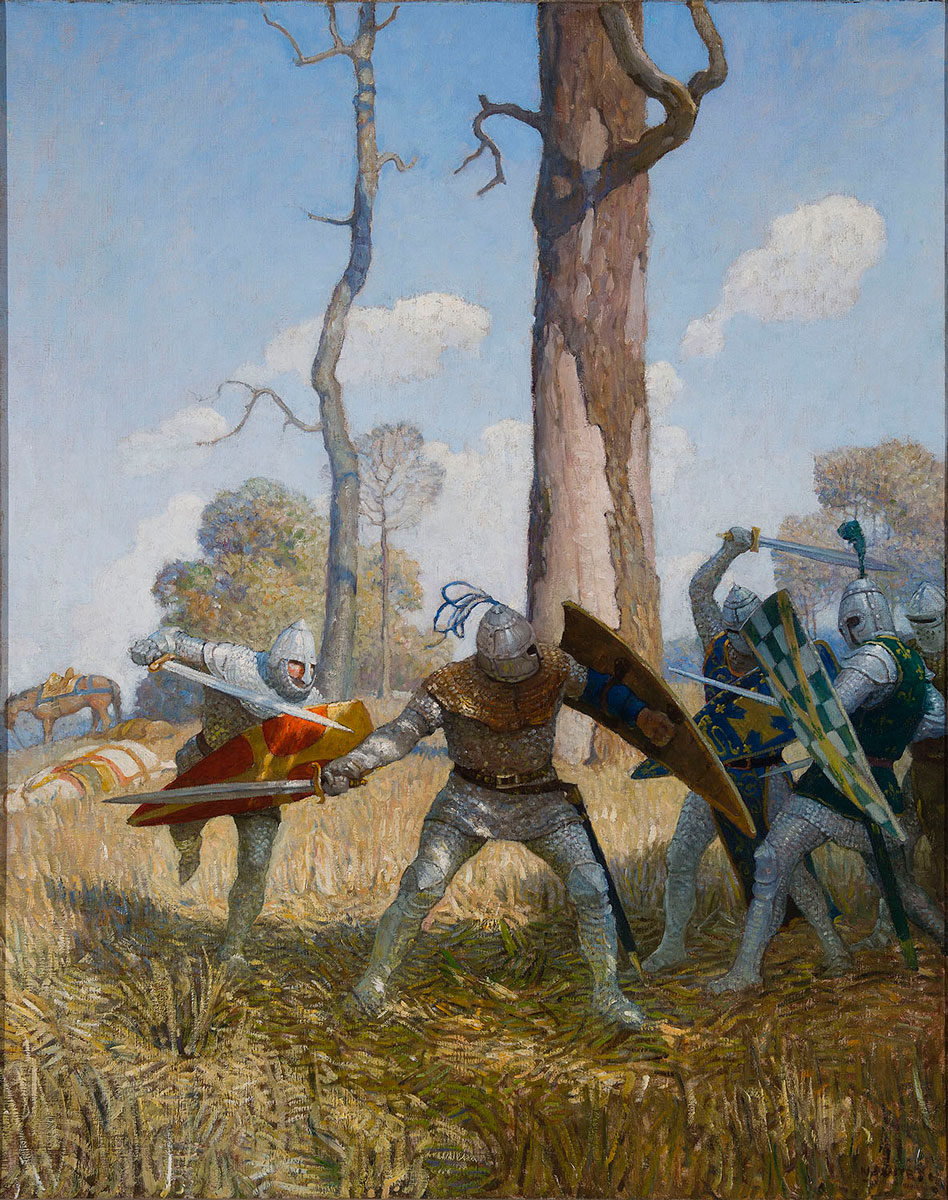 Oil on canvas
40.125 x 31.875 inches
Color illustration facing page 162, Sidney Lanier, ed., The Boy's King Arthur (New York: Charles Scribner's Sons, 1917)
EXHIBITIONS
1920
Pratt Institute, Brooklyn, NY, 1920, "Exhibition of Paintings and Illustrations by N. C. Wyeth," no. 12 as "The Fight Near the Blasted Tree".
1985
Brandywine River Museum, Chadds Ford, PA, 1985, "The Classic Illustrations of N. C. Wyeth"
1987
Brandywine River Museum, Chadds Ford, PA, 1987, "An American Vision, Three Generations of Wyeth Art," no. 34, illus. in color p. 31 (also traveled to: Academy of the Arts of the USSR, Leningrad; Academy of the Arts of the USSR, Moscow; Corcoran Gallery of Art, Washington, DC; Dallas Museum of Art, Dallas, TX; Terra Museum of American Art, Chicago; Setagaya Art Museum, Tokyo; Palazzo Reale, Milan, Italy; Fitzwilliam Museum, Cambridge, England)
1997
Brandywine River Museum, Chadds Ford, PA, 1997, "The Wyeths in Chadds Ford, The Early Years," no numbers
2008
New Britain, CT, New Britain Museum of American Art, 2008, "Double Lives: American Painters as Illustrators, 1850-1950," (also traveled to Brandywine River Museum, Chadds Ford, PA)
2014
Chadds Ford, PA, Brandywine River Museum of Art, 2014, "Enchanted Castles and Noble Knights"
2019
Brandywine River Museum of Art, Chadds Ford, Pennsylvania; Portland Museum of Art, Portland, Maine, 2019, "N.C. Wyeth: New Perspectives,"
illustrated in exhibition catalog in color, page 151
LITERATURE
Douglas Allen and Douglas Allen, Jr., N. C. Wyeth, The Collected Paintings, Illustrations and Murals (New York: Crown Publishers, Inc., 1972), p. 209
David Michaelis, N. C. Wyeth A Biography (New York: Alfred A. Knopf, 1998), p. 243, illus. in color after p. 244
Christine B. Podmaniczky, N. C. Wyeth, A Catalogue Raisonné of Paintings (London: Scala, 2008), I.668, p. 348-349
---
Nicholas Wyeth Inc. represents the finest available original works of art for American artist and illustrator Newell Convers Wyeth (N.C. Wyeth) and his son, Andrew Wyeth.
Nicholas Wyeth is the eldest son of Andrew Wyeth, and grandson of N.C. Wyeth. He began his career in New York City working at M. Knoedler & Co. and Wildenstein & Co. in 1965, followed by Coe Kerr Gallery in 1970. He started Nicholas Wyeth, Inc. in 1975, becoming a private art dealer.
---
N.C. WYETH, 1882-1945
N.C. Wyeth was a pupil of Howard Pyle and became one of America's greatest illustrators. N.C. Wyeth created original illustrations for publications such as The Saturday Evening Post, Harpers, Scribners, and many others. His illustrations appeared in the books of many talented authors such as Robert Louis Stevenson, Jules Verne, and Charles Kingsley.
ANDREW WYETH, 1917-2009
Andrew Wyeth, son of N.C. Wyeth. Under his father's guidance he started drawing at a young age. He mastered figure study and watercolor before exploring egg tempera—which quickly became one of his favorite mediums. At age 20 Andrew held his first one-man exhibition of watercolors at the Macbeth Gallery in New York City. The show sold out. Andrew divided his time between Maine and Pennsylvania painting his favorite subjects—the land and people that surrounded him.